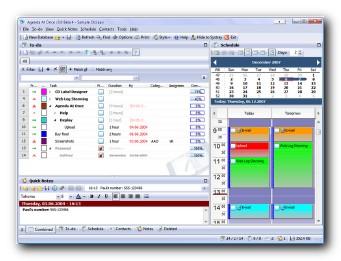 Here's an opportunity to get a Agenda At Once PIM software license for free. We don't ask much – probably anyone can accomplish at least three of these requirements with minimal effort; some are so trivial that we'll need to withdraw them at some point…
1. Write and publish a mini review on your (or someone else's) blog, website or productivity forum.
2. Comment and submit a (honest!) rating at some of popular download websites (download.com, softpedia.com, fileforum.betanews.com, snapfiles.com, …).
3. Send us at least 10 suggestions or bugs. Everything counts, regardless of importance or severity. And this includes website and help (user manual) errors, obscure parts or wording improvements.
4. Finish one of presented TrialPay offers (subscribe to a service, join a network, buy different product, etc). Feel free to browse a list and find something that you like.
And of course, if your trial is over before you had chance to review it properly, just ask and we will send you trial extension key.