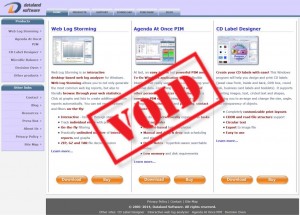 We finally got some time to update company website, and not a day too soon, as previous design was created a decade ago!
It is really embarrassing for anyone, let alone an IT company, to have an outdated website these days. Well, we always had "more important" things to do: CD Label Designer website, Web Log Storming website or other projects that we were working on these years. As they say: "The shoemaker always wears the worst shoes" – it was so true in our case. But not anymore, hopefully – this pair of shoes should be all new and shiny. 🙂
As the website is rather new, we still keep a close eye on possible broken links and other errors and resolving them as they come up, so please take a minute to let us know if you happen to notice anything.