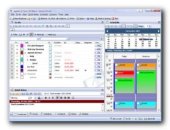 We have decided that our Agenda At Once PIM software, previously priced at $39.95, will be completely free from now on. No cut down features, no Premium offers, no special upgrades – simply free.
Agenda At Once PIM is a full-featured Personal Information Manager with powerful and complete hierarchical To-do list, Schedule/Calendar, Contacts and simple Notes management. Some of main features include:
Grouping tasks in a tree-style manner
A bunch of task fields and configurable columns (like assignees, projects, categories, color, …)
Manually and auto-calculated percentage based completion
Flexible and saveable filters
Easy planning by drag and drop between to-do and schedule
Multiple simultaneous users sharing same data
Portable installation
And much more
In addition, the latest update solves the problem with saving settings on 64-bit Vista+ computers and also adds a support for Windows 8.
Links: