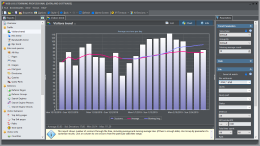 We have just released final version of our interactive web log analyzer (web stats) software Web Log Storming 2.0.
Web Log Storming is an interactive, desktop-based web log analyzer for Windows. A whole new concept of website statistics makes it clearly different from any other web log analytics software. Browse through stats to drill down into details – down to an individual visitor's session. Check the pattern of individual visitor behavior and how it fits into your goals.

Web Log Storming does far more than just generate common reports. It displays detailed web site statistics with interactive graphs and reports. Complete and detailed log analysis of activity from every visitor to your web site is only a mouse-click away.
Version 2.0 introduces number of new features and improvements, including:
Goals
Tabbed reports
Six new report types (including cities and regions)
New parameters and global filters
Better speed and stability
Other usability / user interface improvements
To see what's else new in this version, please visit this page.
What's New in v2.0
Product Website