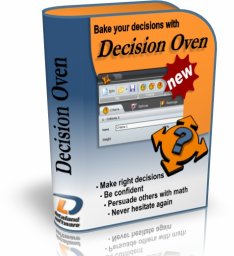 Sometimes all of us need to consider several alternatives and choose the one we find most appropriate for our situation. Whether it's buying a new car, house, computer or making everyday decisions, when there are several important or less important factors, this could be a nightmare. Personally, in situations like this I like to use math to calculate score for each considered option, which helps me a lot in making my mind.
And idea was born – wouldn't it be nice to have a software that guides us through this process? That's why we are currently working on a new product that will help you "bake" your decisions – Decision Oven.
Right now, project is in a very early phase and, besides introductory text, there's nothing to show yet. Regardless, we would like to get a preliminary feedback from you so we can decide if we should polish it for a public or leave it in a "raw" shape, for internal use only.
Feel free to visit a website to see more information, subscribe to a newsletter or leave an early feedback. We are really keen to hear from you!
If you ever felt lost while pondering different options desperately wanting to choose the best one, this software could be just what you need. By user interface designed for ordinary humans, let our software do the underlying math and present you with best alternative that suits your needs.