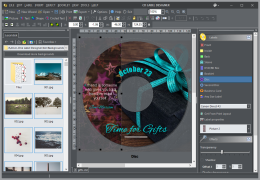 We are happy to inform you that new major update of CD Label Designer, our popular CD/DVD label and cover maker software, is out. We hope that you'll find that these additions will make your designing experience even more enjoyable and labels even more eye-catching than before.
Most important changes
LightScribe™ support
Special effects (shadow and transparency)
New and improved shapes
Custom fields
Embedded Image Browser
Improved Print Layout window
Other less important fixes and improvements
Discount offers
All current customers of any of our software (including Agenda At Once and Web Log Storming) can buy an upgrade for 50% of the full price. No. Scratch that. To reward quickest of you, in next several days price will be even lower: a discount of 67% brings an upgrade price down to the unbelievable $9.98 for Personal and to $13.32 for Business edition. It's really a no-brainer now, so hurry up before this early-bird offer expires and we set the price back to 50% ($14.97 / $19.97)!
Note that, if you bought CD Label Designer after September 1st, 2009, you get an upgrade for free.
To take an advantage of this offer, just type your original registration key into Promotional code field in the order form (see instructions here), or contact us if you have any problems.
How to get CD Label Designer for free?
Well, if you purchased after Sep 1st, you already qualify for free upgrade. If not, there are still other possibilities. The new one on the list is the opportunity to send us print layout that you use, if it's not already included in the default installation. Just use print layout export option to send us .XML file and we'll send you a free key.
Links
CD Label Designer website
What's New and upgrade offer
Get it for free